What is Turo?
Turo is "the world's largest car sharing marketplace" that allows vehicle owners to list their car to be temporarily rented out to a random subscriber on the internet. Think the AirBnb of cars—have you always dreamed of driving that luxury car? Turo makes it incredibly easy.
Turo does have it's in and outs when it comes either using your car to be rented to others or renting someone else's car. Here's everything that you need to know about Turo.
Is Car insurance included with Turo?
For both Hosts and Renters, the answer is no. Turo does not automatically include insurance when you sign up to host or rent. Instead, both are given three options for their insurance coverage –Basic, Premium, Standard—or they can choose to decline coverage if they have their commercial or personal policies that will cover Turo. If you opt-in for a Turo protection plan though you're already insured, their liability insurance will supplement your existing coverage as a secondary source.
How does Turo insurance work?
While Hosts and Renters have the option to not purchase Turo's insurance plans, they are both require to have insurance that would cover them in the event of an accident. This can often be confusing as most people are not aware that personal auto policies will not cover a car being leased for business and will you require to add a special provision to the policy if your insurance company allows Turo leasing. Some personal insurance companies do not have such provisions and they may be forced to completely change insurance carriers.
Turo provides 3 different layers of insurance coverage for subscribers to choose from, but remember, it's still an option to decline if you have preexisting insurance that covers the rental or use of a Turo vehicle. car.
How does Turo insurance work for a host?
Turo partners with Liberty Mutual to provide a choice between three tiers of coverage to their hosts — Basic, Standard, or Premium. Hosts can also choose to decline coverage, which would designate them as a Commercial Host; they would then be required to provide their own commercial rental liability insurance to any guests that rent their vehicles.
It's worth noting that as a host, your take-home amount per trip will change depending on which protection plan you choose. If you decline a Turo plan, you can expect to keep 90% of the trip cost, but you will be responsible for your insurance premiums seperately.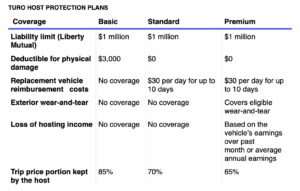 How does Turo insurance work for a renter?
To use the car rental services of Turo, you are not required to have your own personal car insurance policy. Like hosts, renters can choose from three tiers of coverage through Turo's protection plans.
If a guest already carries at least the state-mandated minimum amounts of coverage in the state where the vehicle is registered — and if their current policy extends to their Turo rental — they may choose to decline Turo's protection plans. In addition, these protection plans are not offered if a vehicle is booked with a Commercial Host, as they are expected to carry their own commercial policy.

The main differences between these tiers are deductible amounts and liability limits. All include physical damage but no coverage for mechanical or interior damage.
The physical damage portions of the Standard and Minimum plans are meant to be used as secondary coverage to any other insurance you may already have, while the Premier plan is to be used as primary coverage.
Will my car insurance cover Turo?
It is a myth that car insurance follows the driver — in most cases, your personal insurance policy follows the vehicle. If you have coverage the pays to fix your car in the event of an accident, known as Comprehensive and collision coverage, it's more likely your insurance will apply to a rental car. It is important to never assume that you absolutely have coverage. Verify with your local agent on coverage. 
For hosts, your personal car insurance policy will never extend coverage for the rental use of your vehicle(s). You will risk your insurance provider dropping you as a client if you rent out your personal car for commercial purposes. Your options are to either opt-in for a Turo protection plan or get a commercial rental liability policy to become a Commercial Host. The latter is typically reserved for those who own a business renting out multiple vehicles.
As a Turo renter, it's imperative to double-check with your insurance company to see if your coverage extends to a rental car. A large amount of insurance companies are okay covering rental cars, but may not cover Turo. Be sure to ask exactly what coverages extend to a Turo vehicle — in many cases, insurance providers may offer liability but not physical coverage for a rental car.
Some people have loss damage waiver through a credit card. The same holds true of any credit card benefits you may have for a rental vehicle — they usually come with a few caveats. It's typically to be used as a secondary source of rental car insurance. Check with your credit card provider before making any assumptions.
Written by: Avery Moore
Read more Blog posts by Avery Moore