So, you're turning 65 and need to get a Medigap coverage, also known as a Medicare Supplement, or it's open enrollment and you want to make some modifications. Don't worry, you've arrived at the correct place.
At the very least, Medicare Supplement or Medicare Advantage in Oklahoma can be perplexing. It's critical to work with an experienced agent who can guide you down the appropriate path.
Is it necessary for me to have a Medicare Supplement policy?
Are you able to afford not to? Original Medicare, commonly known as Part A and Part B, can put you at risk for significant medical costs.
For persons on Medicare, a Medicare Supplement provides financial security and supplementary health coverage. Some of the healthcare costs that Original Medicare does not cover are covered by these supplements. Co-pays, coinsurance, and deductibles are examples of out-of-pocket expenses.
Because it helps to bridge the gaps in healthcare costs, a Medicare supplement is also known as a Medigap plan.
This form of coverage is known by a variety of names, which adds to the confusion. All these terms refer to the same thing: Medicare Supplement, Medicare Supplemental insurance, Medigap, Medigap plan, or Medigap policy.
First and foremost, what is Medicare?
Medicare is a government health-insurance program for adults aged 65 and up, as well as some younger people with disabilities, in the United States. Medicare is not the same as Medicaid, which provides health and other services to low-income persons of all ages who qualify.
You must be enrolled in Original Medicare in order to enroll in any Oklahoma Medicare Supplement/Oklahoma Medigap insurance or even Medicare Advantage.
What exactly is Medicare Supplement Insurance?
Medigap, often known as Medicare Supplement Insurance, is a type of optional private health insurance. The goal of this policy is to cover the gaps that Medicare does not cover, such as if your hospital stay exceeds 60 days or if you require more than the 20 days of skilled nursing care that Medicare covers.
Plans assist pay for medical expenses not covered by Original Medicare (Parts A and B).
When traveling outside of the United States, they may cover copayments, coinsurance, deductibles, and emergency care, depending on the coverage.
After Original Medicare pays its portion, Medigap plans pay 100 percent of covered expenses unless the private insurer specifies otherwise.
Purchasing a Medicare Supplement plan can be beneficial to both your health and your wallet; but, locating and selecting an insurance can be difficult, so let's look at the process.
How can I know that all the plans are the same?
Unlike Original Medicare (Medicare Parts A and B), which is supplied by the government, Medicare Supplement plans are marketed by private companies, giving you a wide range of choices.
Supplement plans for Medicare are standardized, which means they all cover the same benefits. This makes it easier to evaluate possibilities and allows you to concentrate on selecting a firm with strong financial standing and excellent customer service.
The plans are categorized as "A" through "N." Each of these programs comes with additional benefits. These other benefits are standardized as well. Plan A insurance, for example, must all give the same additional benefits; the only difference between them is the insurer and the price.
Is this something that my Medicare premium covers?
No. This is a separate premium that is billed monthly because it is through private insurance.
Is it true that this includes my prescriptions?
While this would make things a little easier, if your plan was acquired after January 1, 2006, Medicare Supplement will not cover your prescription. For your drug card, you'll need to acquire Medicare Part D.
So, What Does Medigap Insurance Cover?
These are excellent questions. Oklahoma Basic Medicare benefits (including Part A coinsurance, Part B coinsurance & copayment, hospital charges, hospice care, and preventative care) are covered by the Medicare supplement. Depending on the plan, more benefits may be available.
Long-term care, dentistry, vision, hearing aids, and other forms of lifestyle expenses are often not covered. These are available for purchase separately.
Is it possible for me to see any doctor?
You can see any doctor or healthcare provider who accepts Medicare if you have Medicare Supplement. This contrasts with Medicare Advantage plans, which restrict you to a specific network of healthcare providers (doctors, hospitals, and facilities).
The good news is that Medicare and your insurance company automatically coordinate billing for Medicare Original and your supplement for covered Medicare services and items. You won't have to file any additional claims.
When can I get a Medicare Supplement Policy in Oklahoma?
If you purchase Medicare Supplement insurance during your 6-month Open Enrollment Period, which runs from three months before to three months after your 65th birthday, it will begin immediately when you enroll in Medicare Part B for the first time. For many retirees, this is when they reach the age of 65. If you work past the age of 65, however, the clock starts when you choose to begin Part B coverage. The nicest aspect about registering during your Initial Open Enrollment period is that you won't be rejected coverage. You will be accepted notwithstanding any preexisting conditions or health concerns. This isn't always the case, however.
You will be susceptible to "underwriting" if you purchase Medicare supplement insurance outside of the Open Enrollment Period. Because of preexisting health conditions or your medical history, you may be denied coverage or charged more.
Even if you have health difficulties, once you have a standardized Medicare Supplement plan, it is guaranteed to renew if you keep the same supplement plan. Your coverage cannot be cancelled as long as you pay the premium.
You must qualify if you want to change your Medicare plan during the Medicare Open Enrollment period, which runs from October 15 to December 7. This means that insurance companies will assess your health and may refuse coverage if you have a pre-existing disease.
What Is the Difference in Plans?
The easiest way is just to show you.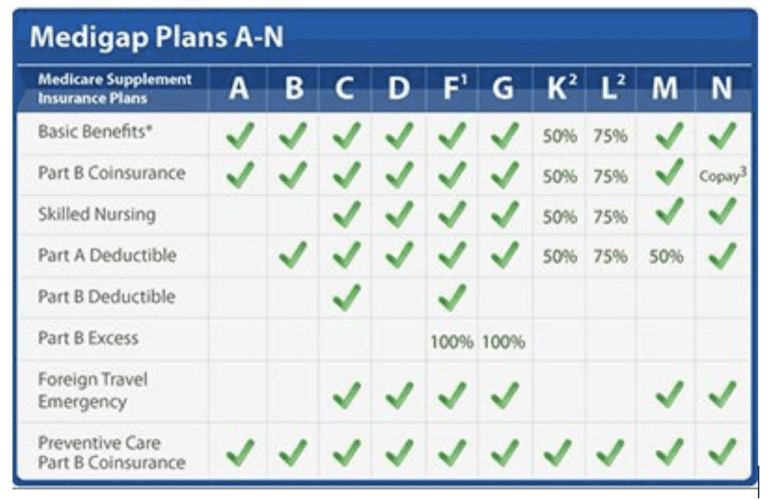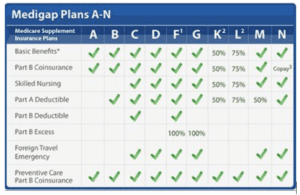 (Image Source: 65medicare.org)
In 2020, both Plan F and Plan C were phased out. However, not everyone was affected by the 2020 Medicare reforms. People who enrolled in Plan F prior to Jan 1, 2020 can remain on Plan F .
Various degrees of care are available, based on your budget and preferences.
How much does it cost?
You don't have to worry about coverage differences because all plans are standardized; all you must worry about is the business and the rate they offer. Prices will differ from one company to the next. Plans with less extensive coverage tend to be less expensive, while those with more complete coverage tend to be more expensive. Medigap plans with more complete coverage have lower out-of-pocket costs, whereas plans with less comprehensive coverage have higher out-of-pocket costs.
Where Can I Get a Medicare Supplement In Oklahoma?
Medicare Supplement insurance policies (Medigap plans) can be purchased through a health insurance agent, broker, or directly from a company. You do not purchase it from the government, unlike Original Medicare (Medicare Parts A and B).
ECI Insurance is an independent insurance agency that can provide you with a variety of options and guide you through the confusing process of acquiring Medigap coverage and your Medicare Part D prescription card. Get in touch with us right away!