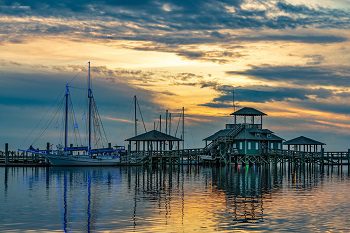 Memorial Day weekend is officially only about a week away. For avid lake goers, that means one thing – lake season is almost here! Whether you're a boater out at Eufaula or just like to enjoy the dock at Texoma, the lake life is the best. As we gear up for one of the most enjoyable times of the year, many people are getting all their affairs in order so that this summer can be one for the books. Insuring a dockominium at Oklahoma lakes is one of the top priorities for many as they gear up for summer fun.
What Is A Dockominium?
It's a water-based version of a condo or apartment. These can be a part of a marina or standalone structures. They may have originally been built to be a livable space, but often they are converted boat slips. These can be a great option when you are looking for an affordable waterfront option at Grand Lake, Eufaula, Lake Keystone, Lake Tenkiller, Lake Murray, or Lake Texoma.
What Kind Of Insurance Do I Need?
Dockominium insurance can be called different things: Marina Insurance, Dockominium Insurance, or Dock and Pier Coverage. The one thing that is agreed is that whatever it's called, you typically want it to cover your investment in the property.
Dockominium insurance is going to cover your space in much the same way that a condo does. The Dockominium owner doesn't usually own the marina, just the boat slip. As such, we are only going to insure only that which belongs to you — plus give you some coverage to protect you if someone is injured on your property. If your dockominium is an apartment, insurance is going to cover the walls in meaning along with the contents inside. It will also give you some coverage if someone is injured while on your property.
Building Coverage
This may or may not apply, depending on what you're working with on your Dockominium. While some can just be a slip, others can have apartments or condos built on them. If the latter was the case, then you would want coverage to cover the building. Make sure you insure it against things like wind, hail, and the event that it sinks in the middle of a storm.
Deductibles will be important to consider — especially in Oklahoma. There will often be two deductibles — one for wind or hail and another for any other covered losses that may occur. Make sure your deductible is an amount you're comfortable with.
Contents Coverage
If your Oklahoma Dockominium includes things that are inside of it, then most people want to include those items. They may be things like furniture and electronics. Make sure you have an adequate limit that would cover all those items, plus any clothing or other items you might permanently keep inside.
Just like insuring the structure, the deductible will also apply for your contents.
Liability Coverage
While insuring the property is important, liability is crucial when it comes to Dockominimums. Whether your Dockominium at Grand lake or Texoma may be stand-alone or a part of a marina, we all know that it's so easy for an accident to happen on a dock. Trips and falls are common. Liability will pay for property damage or bodily injury that you are responsible for or happened on your property. This means if little Timmy is running at your Dockominium at Tenkiller, falls and injures himself on your property, your liability coverage would pay for medical bills. It would even cover defense costs if a lawsuit occurs.
The lowest liability limits we typically recommend start at $300,000. But if you have a boat and other toys, it may be smart to protect yourself with higher limits.