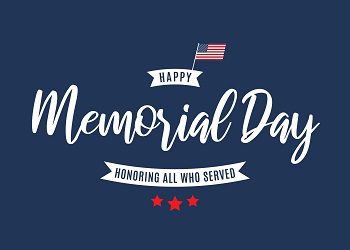 Memorial Day is officially the kickoff for summer. Typically, Memorial Day is reported as being on of the most traveled day of the year, with more than 37.6 million Americas hitting the road for their holiday weekend plans in 2019.
This Memorial Day weekend may not look quite the same as it has in years past. With the pandemic still in force, many Americans' plans are quite the opposite from last year, with modified shelter-in-place orders and social distancing guidelines being implemented. Plans this year may involve exploring your own backyard — and there's nothing wrong with that.
Whether you're hitting the road or adventuring on your own property, it's important to know whether your insurance is ready for everything a long, holiday weekend may throw at you. Do you know what the top claims are during Memorial Day? Keep reading to find out.
Car Accidents
Typically, Memorial Day is known to have some of the highest numbers of fatalities in vehicle accidents. In studies done about car accidents, your chances go up nearly 6.3 percent over the holiday weekend — as opposed to traveling the weekend before or after the holiday. Still, here are a few things to be aware of.
Watch For Reckless Drivers – In a study done by Allstate, they found that there was a 30 percent increase in people driving reckless speeds over 100 miles per hour. While you can't be responsible for other drivers, being completely aware and undistracted could save your life.

PRO TIP: Don't be one of the reckless drivers after a few too many drinks.

Make Sure You're Road-worthy – Before hitting the road, get your vehicle checked out to make sure that everything is working properly. With many of us not driving during quarantine, cars may have sat idle. It's important to make sure everything is in correct working order before loading up the car.

PRO TIP – Consider getting a type of roadside assistance that can help if you plan on going more than an hour or so from home. This can be a lifesaver in a pinch.

Theft Is Rampant – Memorial Day is the 5th most-likely day for having your car stolen or items stolen out of it. Always lock your car and make sure your alarm is set if you have one.

PRO TIP – Don't leave your keys in the ignition (even if it's in your garage) and don't leave valuables in there. Don't make it easy on them.
GRILL FIASCOS

Yes, I know. You are the master of the grill and there's no way that your beloved grill would ever retaliate, right? Well, grilling accidents are the most prevalent on Memorial Day and the 4th of July.
The only thing that should have grill marks is your hot dog. Read below to find out what to avoid.
Fire – Did you know that the top two months for house fire claims are May and July? This makes complete sense. Make sure that your grill isn't too close to the house, where it could cause damage to siding. Smoke damage is another claim seen often around this time of year.

PRO TIP – if you have a gas grill, thoroughly check for any leaks. Brush the burner tubes and check whether theres any leftover grease in the cookbox or catch pan. It's a new year, so, for heavens sake, get a new panliner.
PRO TIP – For Charcoal grills, make sure all the ashes are removed, any unused charcoal is out of the bowl, and the ash catcher is empty.
Is Your Dog A Good Boy?
Is your dog a good boy or a bad boy? Yes, we all love our pups, but sometimes with social gatherings, dogs can add an unexpected flair to an event. In 2019, nearly 4.5 million people suffered from a dog bite — with a majority of those happening to people in which they were familiar with the dog. The average cost of a dog bite is over $44,000, according to the Insurance Institute. Many insurance policies exclude coverage for certain breeds of dogs. See below to find out more.
Your Insurance May Not Help – Many insurance companies have put specific exclusions for certain breeds of dogs. The list typically includes Pit Bulls, Dobermans, Cane Corso, Rottweilers, Chow Chows, Mastiffs, and Wolf Hybrids — just to name a few.

PRO TIP – Check with your insurance agent before a social gathering. They may be able to switch companies that do not have that exclusion.

Always Ask – At large events, it can often be overwhelming to our furry friends. Always ask the owner before even reaching to pet the dog.
Water Danger
With warmer weather, the swimsuits come out and Americans run to the nearest body of water to cool off — whether it be the pool, lake, ocean, or pond. Drowning is 5th highest instance of injury for unintentional death, with an average of 10 accidental boating accidents happening per day.
Watch the Kids – Children between the ages of 1 to 4 have the highest drowning statistics. Always make sure they are wearing floaties and are with an adult.
Don't Drink and Boat – Alcohol use is found in 70 percent of all water recreation accidents. Enjoy your adult beverage — just make sure you're being safe.
From everyone over ECI Insurance, Happy Memorial Day. Remember those that paid the ultimate sacrifice and enjoy your long weekend!