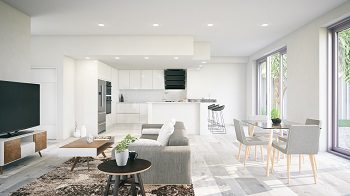 We get this question a lot and it can often be confusing. We'll help you figure out when your home insurance kicks in for appliances that have broken down.
What You Should Know
It's important to know that appliances and equipment – like your refrigerator, washing machine, and dishwasher – can be covered under your home insurance policy. The coverage is usually found in the line titled Personal Property or Contents limit. It could also possibly be covered under Equipment Breakdown, if that is included on your policy. But with all claims, only certain scenarios are covered under a homeowners insurance policy, and coverage depends on the policy you've purchased.
A standard homeowners insurance policy typically includes coverage for damage or loss if it was a result of covered loss. If the loss is due to old age or poor maintenance, then insurance will most likely not help.
When Does Homeowners Insurance Cover Appliances?
In order to know the answer to this question, you need to know whether your homeowners policy is written on Basic, Broad, or Special Form. Most home policies are written on Special, which is the top level of coverage.
Under a standard homeowners insurance policy, the house itself and the contents inside are protected from fire, lightning, smoke, falling objects and twelve other disasters that can arise. Most policies also specify that accidental overflow of water or steam from appliance is also covered. Appliances are going to be considered contents or personal property.
If your policy includes Equipment Breakdown coverage, then the coverage can extend beyond those items above to possibly include basic repair and replacement.
When Doesn't Homeowners Insurance Cover Appliances?
Homeowners insurance won't always cover the cost of repairing your appliances. If the appliance is in non-working order because of age, not being properly maintained, or general wear and tear, then insurance will not help in that instance. Insurance coverage usually does not cover situations that are avoidable incidents, like accidentally heating up foil and damaging your microwave.
Also, if you live in a storm where hail and tornadoes are prevalent – as is often the case in Oklahoma and Texas – then cosmetic damage is usually not covered. This means that unless the structure and integrity of it is damaged, the insurance company will not pay to fix it just because it looks ugly and beat up.
Types Of Coverage
Not every policy has the same type of coverage, so read through your homeowners policy to review. Things to look for include knowing whether your home and appliances are replaced at Actual Cash Value or Replacement Cost. If you need an explanation on why Replacement Cost is so important click here.
Most policies written at ECI Insurance have replacement cost – so congratulations, you're in luck. This means that you'll receive a check for the value or repair of the appliance brand new, even if the item is 10 years old. Keep in mind, an insurance company is going to put you back the way you were so they will not pay for an upgraded appliance.
Home Warranties
Appliances typically only last for so long within its life expectancy. If an appliance breaks or is damaged within the first year of owning it, typically the manufacturer's warranty will help out. Some manufacturers even extend the warranty for an additional 3-5 years. Some will do it for free, while others will require a fee.
Since coverage is limited on insurance, it's important to take good care of your appliances. Always clean them and service them when necessary.